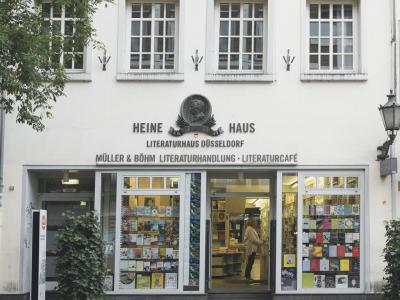 Heine House, Dusseldorf
Heinrich Heine is known as Dusseldorf's most important local author. He was a poet, writer, and critic best known for lyric poetry.

Heinrich Heine was born in Heine House in 1797. The house was originally built in the 17th century. It was damaged during World War II and rebuilt in 1947.

Heine's lyrics were set to music by famous composers like Franz Schubert and Robert Schumann. He was also famous for writing feature articles and the epic "Germany. A Winter's Tale" poem. Heine was a contemporary of Karl Marx and published articles in Marx's journal. However, the two did not share the same ideology.

Heine's political stance caused many of his writings to be banned by German authorities, and he spent his final 25 years as an ex-pat in Paris.

The Heine House houses the Muller & Bohm bookshop. The Heine House aims to promote contemporary German literature and celebrate Heine's achievements. In addition, Heine House hosts an annual three-day literary program devoted to poetry and awards the Dusseldorf Debut Poetry Prize.
Walking Tours in Dusseldorf, Germany