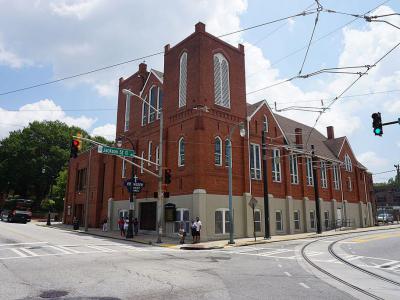 Historic Ebenezer Baptist Church, Atlanta
Located within the confines of MLK Memorial Park, part of the National Park Service, this church is preserved in a manner that you could just have easily walked into 1960s Atlanta to hear a sermon by Dr. King, himself. Visits don't take terribly long, as there isn't much to read, nor are there exhibits to interact with. Simply take a seat and let it all sink in to get a sense of the man and his mission of peace – preferably before attending a Sunday-morning worship service in the adjacent new sanctuary.

Founded in 1886, Ebenezer played a significant role as a spiritual center of the civil rights movement from 1960 to 1968, during which time Martin Luther King, Jr., served as co-pastor. One of the best parts is the opportunity to talk with the park rangers who not only take great care of this site, but are extremely knowledgeable and passionate about all things MLK. Also, Sunday morning visitors get to see the ongoing congregation flow in and out of service – a testament to the continuity of history and tradition.

It is highly recommended that you start your visit to the MLK Memorial Park here, where it essentially all began, and set the tone perfectly for your entire visit to the area.

Why You Should Visit:
To sit in the same pews, have the same views, and actually listen (over loud speakers) to the same sermons Dr. Martin Luther King, Jr. gave, which helped propel the civil rights movement. A surreal, moving and certainly unique experience; a great place to begin a tour of Dr. King's life and legacy – and admission is free.

Tip:
Plan to spend at least 2 to 3 hours exploring the church, sanctuary, and the surrounding historic neighborhood to fully immerse yourself in the experience.
Historic Ebenezer Baptist Church on Map
Walking Tours in Atlanta, Georgia