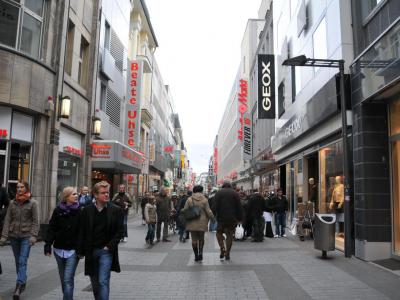 Hohe Strasse (High Street), Cologne
High Street is one of Cologne's oldest streets. Today, it is a popular pedestrian-only shopping street.

High Street was originally a Roman Cardo Maximus street. This busy street was lined with shops and vendors. The forum with temples and the Praetorium was located along the street. In addition, two Roman legions had hospitals, canteens, and barracks along the street.

High Street has been central to Cologne's culture over the centuries. The street has held different names, such as Stone Street during the Middle Ages. During the French Occupation of 1795-1814, a French survey called the street "High Street" in reference to the High Porte on its southern end.

High Street became a busy shopping street during the 19th century. Today, visitors will find a wide range of shops. Don't miss visiting the famous chocolatier Stollwerck. Kids of all ages will love the massive Lego store. The street also features dozens of cafes and restaurants.
Hohe Strasse (High Street) on Map
Walking Tours in Cologne, Germany