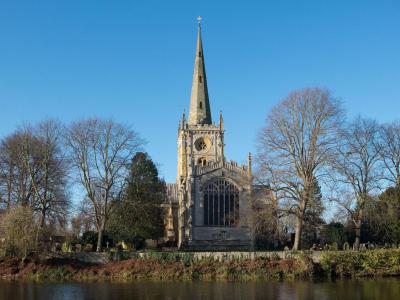 Holy Trinity Church, Stratford-upon-Avon
(must see)
It is clear that Willam Shakespeare loved Stratford-upon-Avon. He was born in a house on Henley Street. The house was not far from Holy Trinity Church, where he was baptized, married and finally buried. He wanted to be always in the place where he arrived. He even has a plaque next to his burial place cursing anyone who would dare disturb his rest.

"...and cursed be he that moves my bones." To date, no one ever has. Many, many people have visited the Church, and looked at his effigy and read his plaque and wondered.

The Church dates from 1210. It stands on the site of an old Saxon monastery. It is, in fact, Stratford-upon-Avon's oldest building. John de Stratford founded a chantry here sometime in the 14th century. Dean Thomas Balshall rebuilt the chantry in 1491. Balshall is buried in the Church.

Within the church are several interesting items. There are: A 14th century porch knocker; more than twenty carved misericord seats in the chancel; The American window in St Peter's Chapel, donated by George Williams Childs, "The Gift of America to Shakespeare's Church"; and copies of Shakespeare's baptismal and burial certificates.
Holy Trinity Church on Map
Walking Tours in Stratford-upon-Avon, England