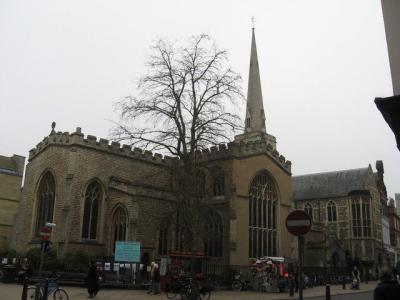 Holy Trinity Church, Cambridge
The Holy Trinity Church is situated on the corner of Market Street and Sidney Street, in the shopping district of central Cambridge. The building dates back over 800 years and was constructed to replace a previous church, destroyed by fire in 1174. Only the western wall remains of the original structure; the church was developed heavily during the English Reformation and is an example of the Gothic Perpendicular style.

The temple played a key role in the city's spiritual revival in Georgian England. The preacher at this time, Charles Simeon, increased the church's popularity with an evangelical style that was at odds with the Anglican customs of the age. Simeon also helped to set up the Church Missionary Society, beginning the English church tradition of sending religious missions to troubled countries overseas.

Still a broadly evangelical church in the image of its former preacher, Holy Trinity Church holds a morning communion each Sunday at 9.30am. A children's church service runs alongside the main service each Sunday morning. There is also an evening service on Sundays at 6.30pm. The church is a centre of student life within Cambridge, and holds an additional 11.30am Sunday service during term times, followed by a students' social lunch.
Holy Trinity Church on Map
Walking Tours in Cambridge, England