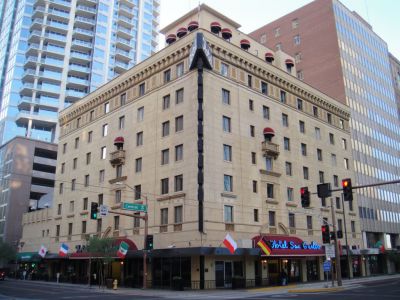 Hotel San Carlos, Phoenix
The San Carlos Hotel is a historical place to stay in Phoenix. It is also a very popular tourist attraction in town. These grounds used to be the location for the first school in Phoenix, back in 1874. The school remained here until 1928, when preparation for the new hotel was started. It competed for years with the Westward Ho, which is also located on Central Avenue. You used to be able to see the likes of Mae West, Clark Gable, Carole Lombard, Gene Autry and Jack Dempsey here at one time or another. Marilyn Monroe also stayed here.

The hotel can be briefly seen in the opening shot of Alfred Hitchcock's 1960 film Psycho, as the camera pans the then-skyline of downtown Phoenix.

The most famous factoid about his hotel is that it is reported to be haunted. For years it has been the site of multiple ghost sightings. The most common sighting is that of Leone Jensen, who visited the hotel in 1928. She committed suicide while there.

The San Carlos was added to the National Register of Historic Places in 1983. The City of Phoenix also added it as a historic location in 2003. The Travel Channel did a show about the place in 2004, which still airs on occasion.
Walking Tours in Phoenix, Arizona