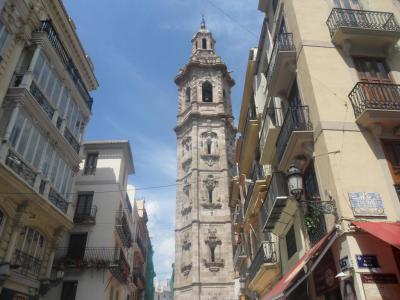 Iglesia y Torre de Santa Catalina (Santa Catalina Church and Tower), Valencia
The Santa Catalina Church is located in a very architecturally beautiful part of Valencia, which is known as La Paz Street. Located very close to Queen Square, it is a rather stunning church that is beautiful both inside and out. Standing outside of the building, you will note the Baroque bell towers. These were not added to the church until 400 years after the construction of its original part was complete, so the style is quite different than the primarily Gothic style of the main building.

This church was built in the 14th Century, and the twin bell towers were added in the 18th Century. The towers, according to local legend, are called "husband and wife".

The inside of the church is very ornate, and shows some of the best religious art in the city. Much of the church construction was due to King Jaime I. With his approval, many similar churches were built across the city to prove to the world that the Christian church could dominate the Muslim Moors. At the time when the bell towers were added, the old Gothic church had also been renovated with Baroque elements.
Iglesia y Torre de Santa Catalina (Santa Catalina Church and Tower) on Map
Walking Tours in Valencia, Spain