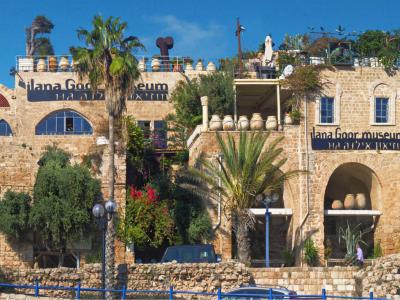 Ilana Goor Museum, Tel Aviv
(must see)
If you're planning on a visit to Jaffa Port, do not miss a tour of the famous Ilana Goor Museum. This establishment has the character and warmth of a home – and rightly so, as nearly three centuries ago it was used as an inn for Jewish pilgrims on their journey to Jerusalem or, rather, a shelter to protect the pilgrims from robbers.

In a bid to restore the building to its former glory and to bring in that calming atmosphere, Ilana Goor spent years working on the graceful arches and the huge golden rock walls; one look at them and you'll know that she has indeed succeeded. An embodiment of refined splendor, the house has many rooms to explore and everything you'll be looking at only adds to the whole; besides, the windows and outdoor terraces offer unique views of the sea and there are comfortable seats to relax in.

Once referred to as an "artistic jungle", the collection is eclectic with things both old and new; focus is on sculpture, wood carving, and metalware. There are more than 500 works of art, either created by Ilana Goor or collected by her over a period of 50 years, either in Israel or during her travels around the world. This includes paintings, some 300 sculptures, video art, Ethnic Art from Africa and Latin America, antiques, as well as drawings and design objects.

Tip:
On Fridays at noon, the museum offers a guided tour for all visitors, included in the entrance fee.
Walking Tours in Tel Aviv, Israel