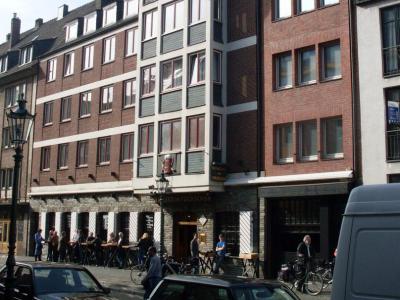 Im Füchschen Brewery, Dusseldorf
Im Füchschen Brewery is a microbrewery and alehouse. Family owned, the brewery uses a family recipe that has been brewed since 1848. German for "in the little fox," Im Füchschen Brewery sits on a location that has steadily held a brewery since 1640. At that time the building didn't have a house number and was simply known for the carving a fox on one of the support beams.

Im Füchschen Brewery was purchased by Theodor and Louise Konig in 1908. It operated for six years before the copper was forcibly removed during World War I. Reopening in 1930 by the children of Theodor and Louise, it operated again for a number of years before it was destroyed by incendiary bombs during World War II. A full rebuild was completed in 1950 by Peter and Johanna Konig.

The brewery is one of only eight in Duesseldorf that brew Altbier onsite. It is currently operated by Peter Konig Jr.
Im Füchschen Brewery on Map
Walking Tours in Dusseldorf, Germany