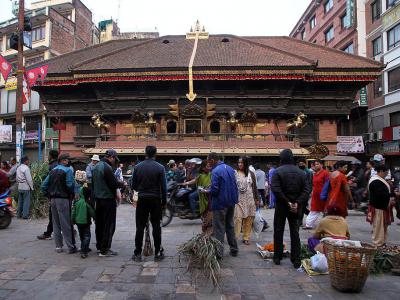 Indra Chowk and Akash Bhairab Temple, Kathmandu
Indra Chowk is a lively market square in Kathmandu. It houses colorful shops and stalls that sell a variety of wares. Visitors will see spices, textiles, beads, jewelry, ornaments, and produce. Street food stands serve traditional Nepali foods. The square is named after Indra, lord of heaven in Hindu mythology.

There are two primary temples in Indra Chowk square. These are the Seto Machindranath Temple and the Akash Bhairab Temple. The Akash Bhairab Temple is guarded by gilded statues that sit atop the entrance on a balcony.

Akash Bhairab Temple is thought to have been the palace of King Yalambar, the first king of Nepal. The head of Akash Bhairab is said to hold the spirit of the king. He is known as the God of the Sky.

The large head of Akash Bhairab is removed during the Yenya Festival each September and blessed by the living goddess Kumari. During the ceremony, a large number of worshippers come to visit the temple. They bring gifts of flowers, money, and food.
Indra Chowk and Akash Bhairab Temple on Map
Walking Tours in Kathmandu, Nepal