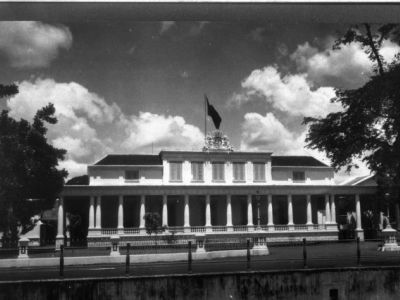 Istana Negara (State Palace), Jakarta
Located opposite the Merdeka Palace and facing the Ciliwung River, in an exquisite neighborhood of old Batavia, Istana Negara or State Palace is a neoclassic building originally featuring two stories. The Negara Palace was built in 1796 and served as accommodation for J. A. van Braam, a Dutch businessman. In 1820 the building was sold to the Dutch authorities and became the official residence of the General-Governor during his stay in Batavia.

In 1848, the second story was demolished and the ground floor was enlarged so as to make the building more suitable for formal events and diplomatic meetings.

Along the time, Negara Palace witnessed two of Indonesia's highly important historical events: the declaration of cultuurstelsel system under the Governor Graaf van den Bosch and the ratification of Indonesia's declaration of Independence by the Dutch authorities on March 25th, 1947 (the Linggarjati Agreement).

Nowadays Istana Negara serves as a venue for official meetings, presidential visits and state affairs. Banquets and formal events are also held inside the Negara Palace.

Visitors are allowed only after a thorough check. Women wearing trousers are not granted access into the palace.
Istana Negara (State Palace) on Map
Walking Tours in Jakarta, Indonesia
Useful Travel Guides for Planning Your Trip
--- Jakarta Shopping Guide: Top 11 Indonesian Products
The world's largest Muslim-populated country, Indonesia is also a mecca for tourists, drawing millions each year to her thousands of volcanic islands scattered between the Pacific and Indian oceans. The country's ethnic diversity has given rise to the lavish and colorful arts and... Indonesian Sweets and Pastries
Spread across an archipelago of islands accommodating hundreds of ethnicities speaking many different languages, Indonesia is a cluster of just as many culinary traditions. And just as any other Asian culinary, Indonesian cuisine can't be imagined without a dollop of sweetness. Some of the...