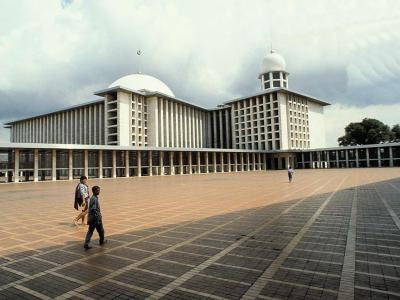 Istiqlal Mosque, Jakarta
(must see)
Boasting the world's most numerous community of Muslims (90% of the country's population declared Islam as their religion), Indonesia is also home to the largest Mosque in the South East Asia. The Istiqlal Mosque was built between 1961 and 1978, after a project designed by Frederich Silaban, whose main theme was Ketuhanan or Divinity.

The Mosque was raised as a sign of gratitude for God's help in obtaining Indonesia's independence, hence its name, Istuqlal, which means "Independence" in Arabic.

Located in the city center, almost opposite the National Cathedral, the Mosque is also meant to be a symbol of peace and religious tolerance. Both monuments are placed near Merdeka Square, suggesting a total harmony between the mundane and the spiritual world.

An architectonic masterpiece, the Mosque can accommodate approx. 120,000 people in all praying areas. The building features 5 stories, a praying area covered with a 45m dome and a main entrance covered with a 10m dome. The minaret is 90 meters high and it is entirely covered in white marble. When not fully occupied, the praying areas are meant for religious lessons and instruction. Apart from the praying areas, the Mosque also features numerous bazaars, spaces for conferences and religious events. During Ramadan, pilgrims receive meals and accommodation inside the Mosque.

Visitors can admire the marble-covered exterior from different parts of the city, but can also take a tour of the Mosque. Non-Muslim visitors are not allowed inside the main praying hall, though.
Walking Tours in Jakarta, Indonesia
Useful Travel Guides for Planning Your Trip
--- Jakarta Shopping Guide: Top 11 Indonesian Products
The world's largest Muslim-populated country, Indonesia is also a mecca for tourists, drawing millions each year to her thousands of volcanic islands scattered between the Pacific and Indian oceans. The country's ethnic diversity has given rise to the lavish and colorful arts and... Indonesian Sweets and Pastries
Spread across an archipelago of islands accommodating hundreds of ethnicities speaking many different languages, Indonesia is a cluster of just as many culinary traditions. And just as any other Asian culinary, Indonesian cuisine can't be imagined without a dollop of sweetness. Some of the...