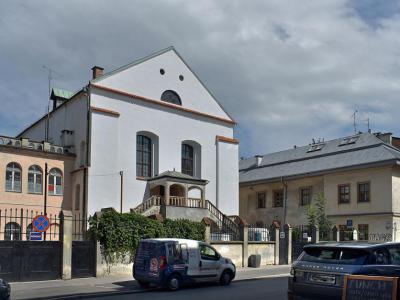 Izaak Synagogue, Krakow
The Izaak Synagogue is one of the most beautiful, noteworthy and morose synagogues in Krakow. Built in the late 16th century, the Synagogue has its reputation of being one of the century's most beautiful buildings in the Kazimierz district in Krakow. In fact, so magnificent was the building after its construction that Christians in the neighborhood were offended and revolted at the existence of a synagogue bigger than any other building in the region.

The synagogue was designed by two Italians namely Giovanni Battista Trevano and Giovanni Falconi. The entire structure was financed by Izaak Jakubowicz, also known as Izaak the Rich. A banker to King Władysław IV, many tales have been associated with the wealth that was accumulated by the man at that time.

Even though the Synagogue was one of the grandest buildings of its time, over the years it has undergone a great deal of misfortune. Under the occupation of Nazis during World War II, the Synagogue's rich interiors were destroyed and damaged and the building was used as a warehouse. Post the War, matters did not improve and the Synagogue was used as an artist's studio. The year of 1970 saw a devastating fire that engulfed the structure ruining it beyond repair. However the year of 1983 saw the first effort for its restoration and ever since constant renovation has brought this Synagogue back to life.
Sight description based on Wikipedia.
Walking Tours in Krakow, Poland