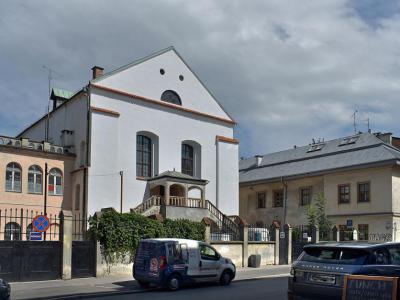 Izaak Synagogue, Krakow
The Izaak Synagogue stands as a striking and significant monument in Krakow, known for its unique blend of beauty and solemnity. Erected in the latter part of the 16th century, this synagogue holds a special place as one of the most splendid architectural marvels of its time within the Kazimierz district of Krakow. Interestingly, its grandeur upon completion was so immense that it stirred discomfort and even revolt among the local Christians, due to its stature surpassing that of any other edifice in the vicinity.

The creative minds behind this masterpiece were the Italian architects Giovanni Battista Trevano and Giovanni Falconi. The financial backing for this entire creation was provided by Izaak Jakubowicz, more famously known as Izaak the Rich. His role as a banker to King Władysław IV lent an air of intrigue to his amassed fortune, giving rise to numerous tales and legends.

Although the Synagogue enjoyed its status as one of the era's most magnificent structures, the passage of time brought forth a series of unfortunate events. The dark period of Nazi occupation during World War II resulted in the destruction and deterioration of the Synagogue's opulent interiors, relegating the building to serve as a warehouse. The aftermath of the war did not bring relief, as the Synagogue found a new role as an artist's studio. The year 1970 marked a tragic blaze that consumed the structure, leaving it in a state of irreparable ruin. However, a glimmer of hope emerged in 1983 with the initiation of its restoration, sparking a continuous journey of renovation that breathed new life into this historic Synagogue.
Walking Tours in Krakow, Poland