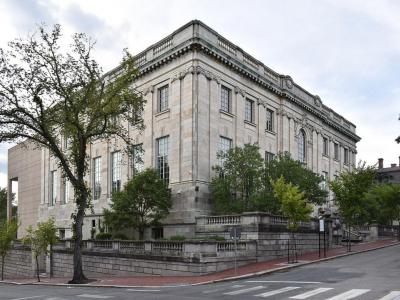 John Hay Library, Providence
The John Hay Library is the second oldest library on the campus of Brown University in Providence. Located on Prospect Street, opposite the Van Wickle Gates, it replaced the outgrown former library, now Robinson Hall, as the main library on the campus. Today, the John Hay Library is one of five individual libraries that make up the University Library. The Hay houses the University Library's rare books and manuscripts, the University Archives, and the Library's special collections.

The John Hay Library opened in November 1910, serving from that time until 1964 as the main library of the University. It was designed in the English Renaissance style by the eminent Boston architectural firm of Shepley Rutan & Coolidge. The Library is named for John Hay, class of 1858, at the request of Andrew Carnegie, who contributed half of the $300,000 cost of the building.

John Hay served as Abraham Lincoln's private secretary during the Civil War and later became Secretary of State. His papers and personal library form part of the collections of the John Hay Library.
Walking Tours in Providence, Rhode Island