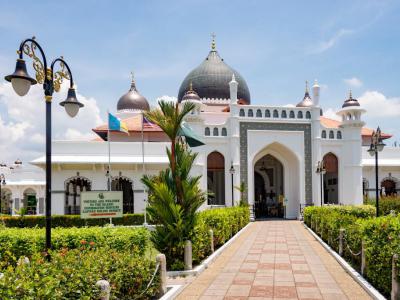 Kapitan Keling Mosque, George Town
Masjid Kapitan Keling is the most famous mosque in Penang. Its architecture combines the Indian-Mughal style with Gothic, Moorish, Romanesque and Renaissance elements. The mosque is named for Cauder Mohudeen Merican. Commonly called Kapitan Keling, he was the leader of the Muslim community in Penang in the early 19th century.

Sir George Leigh, Lieutenant-Governor of Penang, granted 18 acres of land for the mosque in 1801. The mosque was designed by German architect Henry Alfred Neubronner. It is located on Kapitan Keiling Street, also called "the Street Of Harmony." The mosque shares the Street with the Goddess of Mercy Temple and St George's Church.

The mosque is part of the World Heritage Site of George Town. It is at the center of the Tamil Muslim Chulias Neighborhood. Cauder Mohudeen was a ship tandoor from Porto Novo, south of Pondicherry, India.

The original design met with disapproval and the mosque was remodeled and enlarged. The prayer hall doubled in height. The ventilation system was overhauled and more natural light was admitted. The outside is colored ochre. The interior has white marble floors. The aisles are framed by horseshoe arches. All decoration is of geometrical designs.
Kapitan Keling Mosque on Map
Walking Tours in George Town, Malaysia