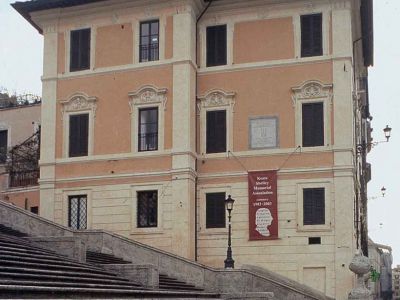 Keats-Shelley Memorial House, Rome
Located at the base of the Spanish Steps, this house holds a poignant history as the final residence of renowned English Romantic poet, John Keats. Sent to Rome in a desperate attempt to find relief from his ailing health, Keats resided in this dwelling until his untimely death on February 23, 1821, at the tender age of 25. The house stands as a testament to Keats' literary legacy and the vibrant bohemian community that thrived in this area, attracting English expatriates of the time.

The house allows visitors to step into the poet's final abode and offers glimpses into his life through various artifacts, including his death mask, manuscript fragments, and letters. Although the original furnishings were unfortunately destroyed after his passing due to health concerns, the house now houses a quaint collection of memorabilia dedicated to Keats and other English literary figures from the era. Notable names such as Lord Byron, Percy Bysshe Shelley, Joseph Severn, and Leigh Hunt are commemorated, while an extensive library on the Romantic poets provides a comprehensive resource for literature enthusiasts.

While Percy Bysshe Shelley shared a close friendship with Keats, it is worth noting that he never resided in the aforementioned house. During Keats' final days, Shelley was residing in Pisa alongside his wife Mary, the renowned author of "Frankenstein". Upon receiving the news of Keats' passing, Shelley was deeply moved and composed his renowned elegy titled "Adonais", which he dedicated to his departed friend. Tragically, Shelley's own life was cut short just a few years later.
Keats-Shelley Memorial House on Map
Walking Tours in Rome, Italy
Useful Travel Guides for Planning Your Trip
---