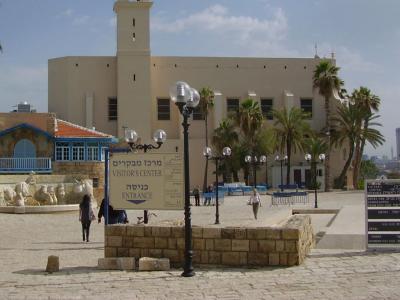 Kedumim Square / Fountain of Zodiac Signs, Tel Aviv
Kedumim Square, nestled in the heart of Old Jaffa, offers a rich tapestry of history and art. This square, a hub of cultural activity, is not only a delightful spot for strolling and shopping but also becomes the vibrant center of the Jaffa Nights festival during the summer months.

One of the square's most remarkable features is the Old Jaffa Visitors Center, known as "Jaffa Tales." This center brings to life the 4,000-year-old history of this ancient city using cutting-edge presentation techniques. Among these is a distinctive archaeological display positioned on the port's dock. The center also offers a compelling Jaffa timeline and an immersive walking tour that meanders through antiquities, extending across a floating bridge. These elements collectively offer an enlightening glimpse into Jaffa's storied past.

A focal point of Kedumim Square is the Zodiac Fountain, created in 2011 by sculptors Varda Ghivoly and Ilan Gelber, with character design contributions from Navot Gil. This fountain is not only a visual spectacle but also a representation of the twelve zodiac signs, intricately carved from chalkstone. It masterfully integrates water, lighting, and stonework to bring the zodiac symbols to life in a dynamic, engaging manner. This artistic creation is an essential part of the square's identity and adds a unique charm to the area.

Adding to the square's allure is an enchanting legend linked to the site. Beneath the Zodiac Fountain, archaeological findings have been discovered that lend credence to the tale of a magical wishing well once located here. According to this legend, anyone who throws a coin into the fountain and makes a wish will see their desire fulfilled immediately, adding a layer of mystique and wonder to the already captivating atmosphere of Kedumim Square.
Kedumim Square / Fountain of Zodiac Signs on Map
Walking Tours in Tel Aviv, Israel