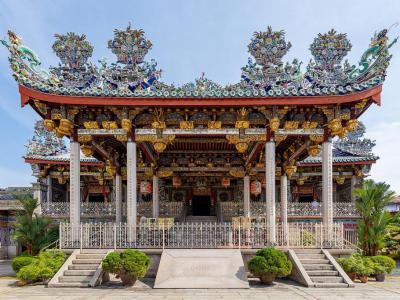 Khoo Kongsi Mansion, George Town
(must see)
The Khoo Kongsi Mansion in George Town is not easy to find. It is embedded among shop house clusters on Cannon Square. The main entrance to the mansion compound is a tunnel in an alley through the wall of shop houses.

The mansion is in a wide paved courtyard, defensively surrounded by the walls of other buildings. It is in three parts: the Prayer Pavilion; the main building and its grand staircase; and a kitchen on the left wing.

The architecture is in the temple style of Southern Fujian province of China: the traditional prayer pavilion with a low bungalow type front porch. The porch is four feet above ground. In the middle of the front steps is a "Stone Of The Royal Way." The flat stone carries the character "Fu", representing five different types of luck.

The first clan house was built in 1851. In 1901 it was struck by lightning and burned. It was thought the style of the house angered the gods for its resemblance to the imperial palace in China. The more moderate present-day hall was built in 1906.

The hall is elaborated with complex wood carvings and beams. The temple is dedicated to the gods of the clan. It also holds a collection of ancestral tablets. In the back are mural paintings illustrating moral precepts and traditional tales. The paintings also honor leaders of the Khoo family who have led the clan in a competitive environment.
Khoo Kongsi Mansion on Map
Walking Tours in George Town, Malaysia