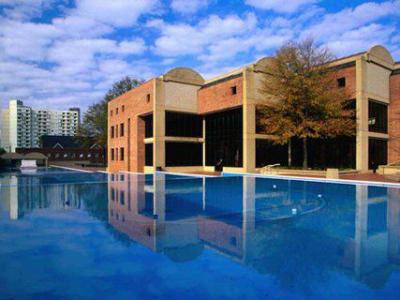 King Center for Nonviolent Social Change, Atlanta
Admirers of Martin Luther King, Jr. will be enthralled by many of the historical displays collected by the King Center, which also includes a theater for audiovisual and interpretive programs, interactive exhibits, a gift shop and a bookstore. It's fronted by a beautifully landscaped plaza with a reflecting pool, King's crypt (which his wife had returned to the site several years ago), and an outdoor amphitheater for NPS programs.

History buffs should definitely visit the museum, which houses some the most memorable artifacts from the Civil Rights Movement of the 1960s. These include the jail cell Dr. King stayed in after being arrested for civil disobedience in Birmingham (where he also wrote "Letter from a Birmingham Jail"), to the carriage that carried his casket from Ebenezer to Morehouse with some 200,000 mourners. There is even a clock with the time of King's assassination – almost as if time stood still at that exact moment.

Tip:
Spending about an hour at the museum is recommended, but those who want to watch the many video clips from the era should give themselves more time.
King Center for Nonviolent Social Change on Map
Walking Tours in Atlanta, Georgia