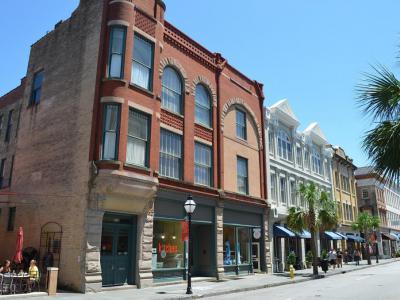 King Street, Charleston
King Street and its surroundings are, perhaps, the most happening area in Charleston. It is also the second most historically and architecturally significant downtown lane, after Meeting Street, where the city's past and present converge. More than three centuries old, this thoroughfare was named for King Charles II of England and soon thrived as a retail corridor, commercial center, and a major shopping district, hosting a variety of high-end specialty stores.

Do you like it upscale? If not to shop, then at least to look? A stroll down this street's pedestrian-friendly sidewalks takes you by the shops offering unique and handmade jewelry, antiques, gifts, shoes, and fine clothing; as well as galleries of local artists and artisans. Peculiar enough, many local stores still "dress" their windows as they did back in the old days. There's also no shortage of trendy restaurants and cool little coffee & dessert shops here either, worth stopping by and taking a break. A definite must-visit among them is Gullah Gourmet!

Of course, with so many options on the table, one can't help wondering where to start. While planning your time here, consider that the street is divided into three sections: the lower section for antiques, the middle for boutiques, and the upper one for trendy design, gift shops, and dining. Explore at your pleasure!
Walking Tours in Charleston, South Carolina