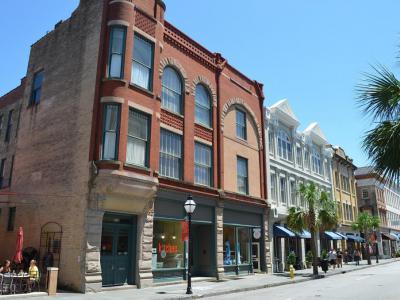 King Street, Charleston
King Street and its surroundings are, perhaps, the most happening areas in Charleston. It is also the second most historically and architecturally significant downtown lane, (after Meeting Street), where the city's past and present converge. With a history spanning more than three centuries, this thoroughfare was named for King Charles II of England and soon thrived as a retail corridor, commercial center, and a major shopping district, hosting a diverse array of high-end specialty shops.

Do you like it upscale? Even if not for shopping, a leisurely stroll down this street's pedestrian-friendly sidewalks impresses with stores offering unique and handmade jewelry, antiques, gifts, shoes, and fine clothing; as well as galleries showcasing the work of local artists and artisans. Peculiar enough, many local stores still "dress" their windows as they did back in the old days. There's also no shortage of trendy restaurants and cool little coffee and dessert shops here either, worth stopping by and taking a break.

With such an abundance of options, you may find yourself wondering where to begin your exploration. As you plan your visit, it's worth noting that King Street can be divided into three sections: the lower section, known for its top-notch antiques and jewelry boutiques; the middle section, home to upscale brand-name stores and some exceptional shoe shops; and the upper section, characterized by more cutting-edge boutiques and housewares stores (often locally owned and with a personal touch), along with a vibrant restaurant scene. Feel free to explore at your own pace and delight in the offerings of each section.

Tip:
Keep an eye out for "Second Sundays on King," an event where the street is closed to cars throughout the afternoon, spanning from Calhoun Street to Queen Street. Plus, don't miss the Saturday farmers' market in Marion Square during the spring and summer months.
Walking Tours in Charleston, South Carolina