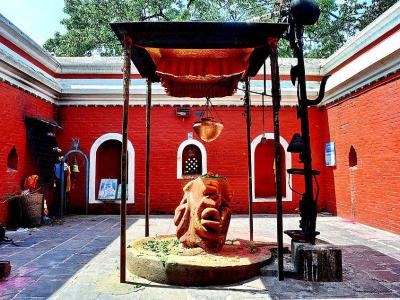 Kirateshwar Mahadev (Kirateshwar Temple), Kathmandu
Kirateshwar Temple is a Sikh place of worship located on the west side of the sacred Bagmati River. It is dedicated to Lord Shiva. In the Shaivite tradition, Shiva is the Supreme Lord who creates, protects, and transforms the universe. The temple is locally known as Shiv Mandir (Shiva Temple).

According to Hindu beliefs, Lord Shiva appeared at this site and blessed Arjuna, the main character in ancient Hindu texts, with success in war, and then a temple was built in Lord Shiva's honor.

The ancient temple sits on a mountain across from the city of Gaurighat. Built in the traditional Nepali pagoda-style architecture with an open roof, it is one of the largest temple complexes in Sikhism.

The temple is open to the public 24 hours per day. Traditional Nepali concerts are held at night when the moon is full. Lord Shiva is the patron deity of Music and Arts, therefore the concerts bring many spectators and musicians from all over Nepal.
Kirateshwar Mahadev (Kirateshwar Temple) on Map
Walking Tours in Kathmandu, Nepal