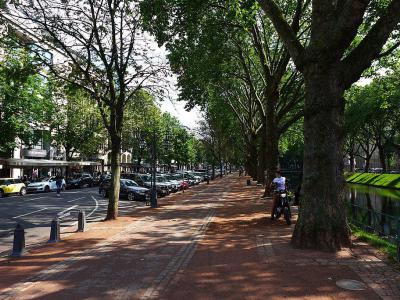 Königsallee (King's Alley), Dusseldorf
(must see)
King's Alley is a shopping street that runs along a picturesque canal. King's Alley, also known as King's Avenue, is one of Germany's most attractive upscale shopping streets.

King's Alley was redeveloped in 1802. City planners dug the canal, which is fed by water from the Dussel River. The attractive canal is 32 meters wide (105 feet) and five meters (16 feet) deep.

Chestnut trees were planted along the canal, and the street was named Chestnut Avenue. Legend tells of a story where someone threw horse manure at King Friedrich Wilhelm IV in 1848. The street was then named King's Alley as a goodwill gesture.

Shoppers will find luxury brands such as Armani, Louis Vuitton, Chanel, Cartier, Prada, and Jimmy Choo. Visitors can also visit gorgeous boutiques and shops for clothing, shoes, designer bags, and one-of-a-kind jewelry.

The street is also home to the Ko Galerie, a three-story mall. This beautiful building features steel, aluminum, and marble construction. Here, visitors will find a variety of clothing, home decor, and accessories. In addition, the mall features several restaurants.

King's Alley is a beautiful street to stroll, and the trees provide welcome shade during the summer. The street also boasts interesting architecture. The Ko-Bogen has a modern glass, stone, and aluminum exterior and houses several stores, restaurants, and offices.

There are many luxury hotels along King's Alley, such as the Steigenberger Park Hotel, the Leonardo Royal, and Hotel Favor. Visitors can also stop by several great art galleries. For example, Galerie Paffrath and Galerie Ludorff both feature modern art.

King's Alley has dozens of fantastic restaurants. You can enjoy a quick meal at a casual cafe, stop for a bakery treat, or make a reservation at a Michelin-starred restaurant.

In addition to the shopping, architecture, and hotels, King's Alley is home to vibrant nightlife. Visitors will find exciting nightclubs, bars, cocktail lounges, and discos along the busy street.

During the festive season, King's Alley hosts two Christmas markets that feature beautiful lights and delightful treats.
Königsallee (King's Alley) on Map
Walking Tours in Dusseldorf, Germany