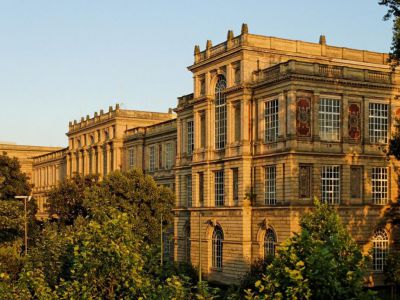 Kunstakademie, Duesseldorf
The Kunstakademie Düsseldorf, formerly Staatliche Kunstakademie Düsseldorf, is the Arts Academy of the city of Düsseldorf. It is well known for having produced many famous artists, such as: Joseph Beuys, Gerhard Richter, Sigmar Polke, Thomas Demand and Andreas Gursky. In the stairway of its main entrance, are engraved the Words: "Für unsere Studenten nur das Beste" ("For our Students only the Best").

The school was founded by Lambert Krahe in 1762 as a school of drawing. In 1773, it became the "Kurfürstlich-Pfälzische Academie der Maler, Bildhauer- und Baukunst" (Elector of Palatine's Academy of Painting, Sculpture and Architecture). During the Napoleonic Wars, the earl's art collection was inherited by the Wittelsbach family and moved to Munich, prompting the Prussian government—who had annexed the Düsseldorf region after Napoleon had surrendered—to change it into a Royal Arts Academy in Düsseldorf, in 1819.

In the 1850s, the Kunstakademie Düsseldorf became internationally renowned, with many students coming from Scandinavia, Russia and the USA to learn, amongst other things, the genre and landscape painting associated with the "Düsseldorf school".
Sight description based on wikipedia
Walking Tours in Duesseldorf, Germany