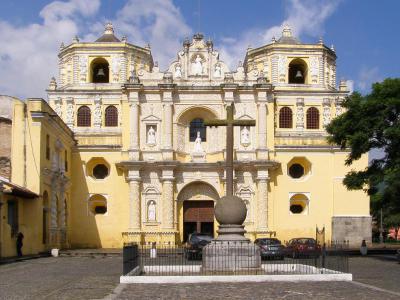 La Merced Church, Antigua
(must see)
La Merced Church in Antigua stands out for its Baroque-style architecture. The building has a beautiful facade with ornamental elements set in relief and a striking yellow color of the main walls complemented by white plaster sculptures. The church has its origins in a monastery that existed from the 17th century. After an earthquake in 1773, important statuary moved to a new congregation. However, La Merced Church's community moved back to the original building in the mid-19th century.

One of the unique things about the church is the low height of its two bell towers - it is designed to withstand the frequent tremors in Guatemala. San Pedro Nolasco, who founded the Order of the Blessed Virgin Mary of Mercy appears in an effigy form on top of the church building. The crest for his order, as was as images of two friars from this order, appear on either side of San Pedro Nolasco's image.

The facade's central niche contains an image of Our Lady of Mercedes. On the left side of this image, visitors can see effigies of San Pedro Arinengol and San Raymundo Nonnatus. Images that visitors can see on the right include depictions of San Pedro Pascual and Santa Maria de Cervellón.

After more than three centuries, the building is still standing and remains in good shape. Today the church is popular with locals and tourists alike. La Merced Church is open to the public daily from 9 am to 6 pm.
Walking Tours in Antigua, Guatemala