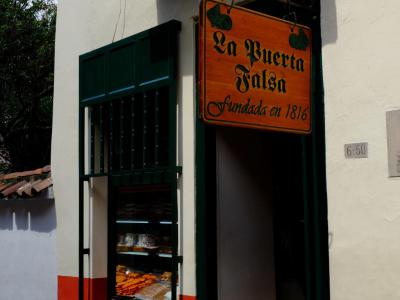 La Puerta Falsa Restaurant (False Door Restaurant), Bogota
The name of the restaurant La Puerta Falsa is translated as the false door. Locals began to call the increasingly popular eatery "the place near the false door," referring to a false door set into the side of the Primate Cathedral, situated across the snack shop. Eventually, it simply became La Puerta Falsa. The history of False Door Restaurant started with a fight. Two hundred years ago, a priest, Friar Juan Bautista, was organizing the July festival of the Virgin of Carmen. It was an honor to be chosen to help. The priest failed to invite the help of the wrong woman.

The woman's name is lost. She is known today only as La Chozna, which means great-great-great-granddaughter. Insulted by the priest's oversight, she had her husband buy a property near the cathedral. She moved in and opened an eating place for the festival workers, drawing them away from Friar Bautista's long boring sermons.

Today, False Door Restaurant is still operated by the descendants of La Chozna. The restaurant is a tight little two-story space that can barely seat twenty diners at once. The narrow street door requires patrons to enter in single file. The ground floor is always crowded. There is tight seating on a balcony at the back.

The restaurant, located near the Primate Cathedral on Street 11, number 6-50, serves "a taste of grandmother's kitchen." For breakfast, a "tamale", spiced rice, and chicken in a banana leaf. The hot chocolate, "Santafereno", with bread and dipping cheese should not be overlooked. Lunch may be ajiaco stew, also with bread, dipping cheese, and two eggs. The tamales are legendary. This tiny restaurant has been serving traditional tamales for more than 200 years.
La Puerta Falsa Restaurant (False Door Restaurant) on Map
Walking Tours in Bogota, Colombia
Useful Travel Guides for Planning Your Trip
--- Enjoying Onces in Bogota
Elevenses, on the surface, seem to be a particularly British tradition, a break for something light and sweet between breakfast and lunch, a time to gossip, a time to catch up, a time just to be. Lo and behold, Colombia somewhere along the line adapted this tradition in a particularly Latin fashion.... 18 Uniquely Columbian Things to Buy in Bogota
To those who understand Russian, the word "Bogota" sounds very similar to the one translating as "rich". And, indeed, the city does live up to this name connotation in terms of peculiar things worth exploring in addition to coca, coffee and emeralds. Here's the longer list...