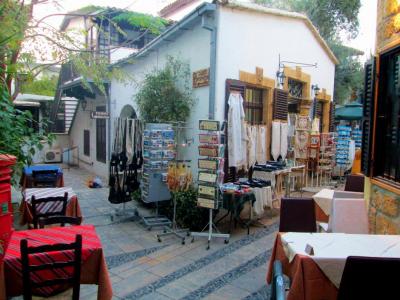 Laiki Geitonia Shopping Area, Nicosia
Laiki Geitonia is part of Nicosia's pedestrian area. Laiki Geitonia features buildings from the 18th century that have been beautifully restored. The buildings were constructed with wood, sandstone, and mudbrick. This area features winding streets, residences, souvenir shops, craft shops, and tavernas.

Visitors can walk the narrow cobbled streets and get a taste of a traditional Greek neighborhood. As you wander, you'll encounter intriguing side streets and bustling courtyards. The renovated homes and buildings feature traditional architecture. Cafes have outdoor seating, and guests can enjoy traditional Cypriot food. For a traditional treat, try a Cyprus coffee with halloumi, tsamarella, or lountza.

Visitors can enjoy boutique shopping, visit an art gallery, or watch artists paint. Laiki Geitonia is a wonderful place to explore Nicosia's culture, folk art, and local crafts. Stop by during the day to take pictures, enjoy shopping, or visit for a delightful dinner in the evening.
Laiki Geitonia Shopping Area on Map
Walking Tours in Nicosia, Cyprus