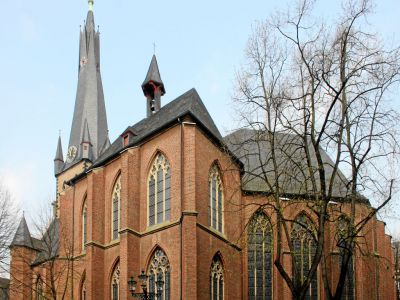 Lambertuskirche (St. Lambertus Church), Dusseldorf
St. Lambertus Church is one of Dusseldorf's favorite landmarks. Construction began in 1288, the same year that Dusseldorf was officially founded. St. Lambertus Church was consecrated in 1394 and dedicated to Our Lady. In 1805, the church was reconsecrated and dedicated to Saint Lambertus, who was martyred in 705.

Lambertus was the bishop of Maastricht from about 670 until his death in 705 AD. Lambert denounced Pepin's liaison with his mistress Alpaida. He was murdered during the political turmoil that developed when various families fought for influence as the Merovingian dynasty gave way to the Carolingians. Lambertus is considered a martyr for his defence of marriage.

Visitors can see the impressive tomb of Wilhelm V of Julich-Kleve-Berg in the church. The interior features an intricate Gothic tabernacle and several distinctive statues.

In 1815, a fire destroyed the church's original spire. The spire was rebuilt and now features a fascinating twist. The twist is probably due to damp, fresh wood used during the reconstruction. However, legend says that the devil tried to uproot the church and twisted the tower during the failed attempt.

The tower was damaged again during World War II. Residents were so attached to the spire's unusual twist that they rebuilt the spire and incorporated the twist.

In the 1950s, sculptor Ewald Mataré added a new west portal to the church.
Lambertuskirche (St. Lambertus Church) on Map
Walking Tours in Dusseldorf, Germany