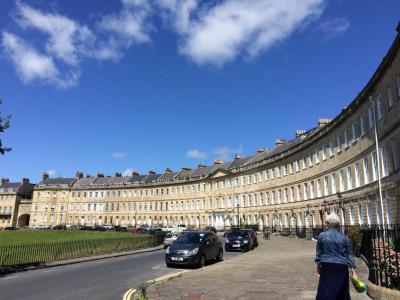 Lansdown Crescent, Bath
Lansdown Crescent is one of the finest examples of Bath's architectural trademark – the sweeping, impeccably preserved Georgian crescents dotted around the city's Georgian suburbs. These crescents are located on the hills north of Bath's historic city centre. Lansdown Crescent lies further afield than its more famous counterpart, the Royal Crescent, and requires a fifteen minute walk along a series of ever steepening roads from the city centre. When you arrive, however, the extra exertion proves to be worthwhile – as the crescent looks over a truly spectacular view of the city, nestled in the valley below.

Designed by renowned architect John Palmer, Lansdown Crescent was constructed during Bath's boom years, and was completed in 1793. Comprising twenty houses, it is a Grade I listed building. The large spherical green lying next to the crescent of houses is, improbably enough, occasionally used for grazing sheep. Lansdown Crescent sums up Bath's two sides – a hilly, isolated country town with a rich urban architectural history. The twin highlights of its sweeping façade and the view it looks onto make it a natural stop to a tour of the other Georgian architecture north of the city centre, including the Royal Crescent, the Circus and the nearby Somerset Place.
Walking Tours in Bath, England