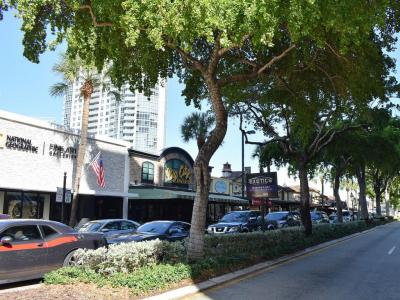 Las Olas Boulevard, Fort Lauderdale
(must see)
Visitors to Fort Lauderdale can walk the length of Las Olas Boulevard, from Bubier Park to Las Olas Beach, in about an hour. That is, of course, assuming those tourists don't stop along the way at one of the many exciting and interesting spots. The pedestrian-friendly sidewalks line this main thoroughfare in Fort Lauderdale, making it the perfect way to see the city on foot with a beach destination in mind.

Dining is often on a tourist's mind when visiting a new city. Las Olas Boulevard offers dozens of restaurants in cuisines and styles to fit every taste. Visitors can choose from pub food, sushi, vegan, smoothies, fine dining and much more. There are many restaurants that are influenced by Central and South America, but tourists can also find Indian, Middle Eastern, Greek and Italian restaurants among the many offerings.

Stopping to shop is something that visitors enjoy along Las Olas Boulevard. Tourists will see art galleries, gift shops, jewelry stores, apparel and specialty shops. This is an excellent place to find souvenirs or to simply browse while walking through the city.

There are also a number of entertainment venues along Las Olas Boulevard. Visitors love the NSU Art Museum, which is a destination in and of itself. Live music is regularly found in restaurants or at clubs along the boulevard.

The draw to Las Olas Boulevard isn't just what can be seen now but also what can be learned from the history of the city. The boulevard was built in 1917 as a path to the beach. After World War II, it became the commercial district of the city. It also became home to a number of notable people. Some of the previous residents of Las Olas Boulevard include Sonny and Cher, Lucille Ball and Desi Arnaz, Lee Majors, Connie Francis and Gloria Vanderbilt.

Why You Should Visit
- To shop, dine and people watch
- To walk the more than 100 year old path to Las Olas Beach

Tips
Take your time! There is so much to see and do along Las Olas Boulevard that you could plan a day around the trek. Don't forget that at the end of the street is a beautiful beach where you can relax while taking in gorgeous views of sand and sea.
Las Olas Boulevard on Map
Walking Tours in Fort Lauderdale, Florida