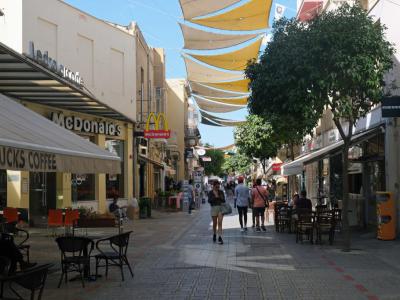 Ledra Street, Nicosia
(must see)
Ledra Street is a popular shopping street named after the ancient kingdom of Ledra. In 1050 BC, Ledra was located where Nicosia is today. Ledra Street is a pedestrian-only street, so you can walk and shop without the noise and inconvenience of vehicle traffic.

The street was known as Murder Mile during the EOKA struggle in the 1950s. During this time, EOKA fighters targeted the British military along Ledra Street.

The buffer zone was established in 1974 to separate the northern Turkish-controlled part of Nicosia from the Greek-controlled southern part.

It used to have a barricade as the center of the United Nations buffer zone between the Turkish and Greek sides of the city. The barricade was removed in 2008, and now people can walk across the border.

Most of Ledra Street is on the Greek side. The Greek side features international brands, and the Turkish side has smaller boutiques. The Shacolas Tower is one of the tallest buildings in Nicosia and links to three arcades that are filled with shops and cafes.
Walking Tours in Nicosia, Cyprus