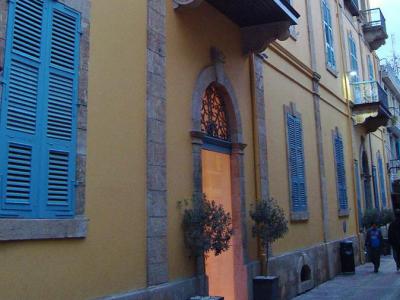 Leventis Municipal Museum, Nicosia
(must see)
The Leventis Municipal Museum features a large collection of Cypriot works. Visitors will see exhibits that feature archeological artifacts, medieval pottery, furniture, maps, jewels, and photographs.

The museum was established in 1984 and named after the Anastasios G. Leventis Foundation, the museum's principal donor. The museum opened in 1989 and showcases Nicosia's history from 3000 BC to today. The exhibits first focus on modern Nicosia and then lead visitors back to 3000 BC.

The British Period Gallery covers the time period from 1878 to 1960. The Ottoman Period Galleries focus on the years between 1570 and 1878 and the difficult Ottoman occupation.

The Venetian Period Galleries showcase the time between 1489 and 1570. Visitors will find a collection of Nicosia's ancient and modern maps in the Venetian Galleries. In the Byzantine and Medieval Galleries, visitors can see a collection of glazed vessels and other objects dating to the years 325-1489. The Nicosia Gallery features objects from 3900 BC to 325 AD.

In addition to the museum's permanent exhibitions, the museum features temporary exhibitions, educational programs, events, and lectures. The museum also has a shop that sells souvenirs, books, and gifts.

The museum offers free admission. Written museum guides are available in Greek, English, French, German, and Italian.

Operation hours: Tuesday to Sunday: 10 am - 4.30 pm.
Leventis Municipal Museum on Map
Walking Tours in Nicosia, Cyprus