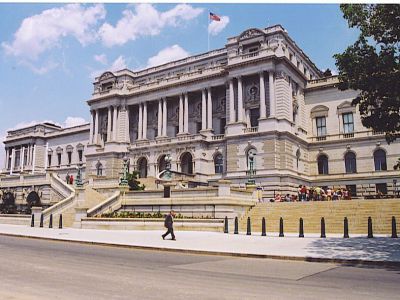 Library of Congress, Washington D.C.
(must see)
The Library of Congress was founded in 1800 during President John Adams' administration with the primary purpose of providing Congress with the necessary books for their legislative duties. Thomas Jefferson played a significant role in emphasizing the importance of the library, and in 1802, he signed a law that outlined its structure and permitted the President and Vice-President to borrow books from it. Unfortunately, during the War of 1812, the Library of Congress was destroyed when British troops burned down the Capitol in 1814.

In response to this loss, President Jefferson generously offered his personal collection of 6,487 books to replace those lost in the fire. Congress accepted his offer in 1815, compensating him approximately $24,000 for his library. Regrettably, another fire occurred in 1851, destroying roughly 4,000 books from President Jefferson's donation along with an additional 31,000 volumes. Following some debates about its management, the Smithsonian Institution transferred approximately 40,000 volumes to the Library in 1866.

Subsequently, the Library of Congress underwent substantial expansion, amassing 840,000 volumes by 1897. During this period, there was a growing sentiment that the Library should serve as a national resource. Programs were initiated to make the collection accessible to individuals with physical disabilities. In addition to books, the Library houses an extensive collection of manuscripts, sheet music, maps, sound recordings, and films, making it an extraordinary repository of knowledge.

Today, the Library of Congress boasts the world's largest collection of books and manuscripts. While it is a public resource, only members of Congress, high-ranking officials, and Supreme Court Justices have the privilege to check out books. Nevertheless, anyone is welcome to utilize the books stored in three separate buildings on Capitol Hill in Washington, D.C. These libraries are interconnected by tunnels, streamlining the security process for visitors.

Why You Should Visit:
A world treasure that has one of the most beautiful building interiors in Washington, D.C. and worldwide!
There are permanent exhibits (first printed book – Gutenberg Bible from 1455) as well as temporary ones at any times.

Tip:
Definitely go online beforehand and register for your reader card; then, when you get there, just show your ID and the world of learning is open to you.
Tours are free and about an hour long. While you can see all the areas on the tour on your own, they are explained nicely by the tour guide.
There is a tunnel that connects the LoC and the US Capitol so you can view both without going outside.
If coming from the Capitol Building, you don't have to pass through the security check again (but if planning on visiting the Capitol Building from here, you will need to go through the security check, even if you came from this building before).

Opening Hours:
Tuesday - Saturday: 10:00 am - 5:00 pm; Sunday, Monday: Closed.
Library of Congress on Map
Walking Tours in Washington D.C., USA
Useful Travel Guides for Planning Your Trip
---