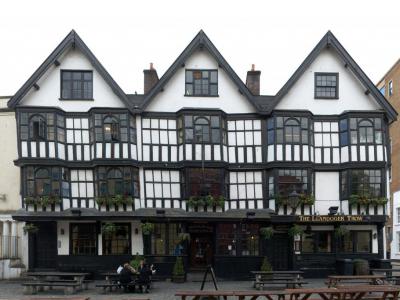 Llandoger Trow, Bristol
A walking tour of the city of Bristol is not complete without a stop by Llandoger Trow. This former pub is thought to be the spot where Robert Louis Stevenson was inspired to write about the Admiral Benbow Inn in "Treasure Island." It is also said to be the pub where Daniel Defoe met his inspiration for "Robinson Crusoe."

The pub was built in 1664 as part of a row of houses. It was bought by a Welsh sailor known as Captain Hawkins who named the pub after the Welsh village of Llandogo.

Llandoger Trow was known to be frequented by Edward Teach, the infamous pirate Blackbeard. The building also made a name for itself on the list of most haunted places in the country. Ghost hunters say that 15 different ghosts can be seen or heard on the grounds.

The pub is owned by Whitbread PLC who chose to close the building in 2019 rather than pay costs for needed upgrades. Visitors cannot go inside the pub but they can stop to admire the historic facade as they walk along King Street.
Walking Tours in Bristol, England