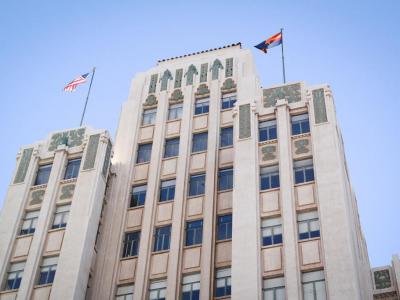 Luhrs Tower, Phoenix
Luhrs Tower is a historical skyscraper located in downtown Phoenix. It is located at the intersection of First Avenue and Jefferson Street, just south of Patriots Square Park.

It was built in 1929 by George Luhrs, who was a successful businessman in Phoenix at the time. The tower rises a whopping 185 feet into the skyline of the downtown area. It contains 14 stories, with matching setbacks located in the 8th and 11th floors.

Luhrs Tower, from an architectural standpoint, is a fine example of art deco. The building was designed by Trost & Trost of El Paso, Texas, who also designed the local landmark O.T. Bassett Tower in their hometown. It is not surprising that the two buildings share many architectural features.

The building gained wide attention when it appeared in the background of a scene from the 1960 Alfred Hitchcock film Psycho. In the movie, the character Marion Crane crossed the street here to make a deposit for her boss.
Walking Tours in Phoenix, Arizona