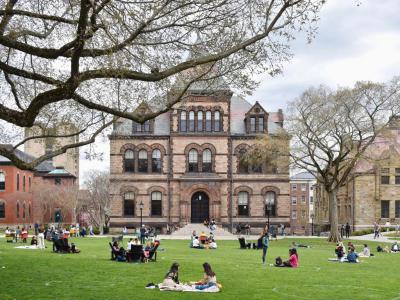 Main Green, Providence
Main Green is a central park area in the midst of Brown University. It is a popular location for students to meet, study, picnic and play. It is also a common spot for gatherings and special events on the campus.

Main Green is located between University Hall and Sayles Hall with many of the University buildings within only a few steps. Visitors to Brown University will see a number of students stopped on the green as they bide time between classes or simply enjoy the day.

It is also a good place to observe one of the most important pieces of art on the Brown University campus. The Idee di Pietra, or "Ideas of Stone," sculpture by Giuseppe Penone was installed on the green in 2006. Made from cast bronze and grey granite river stone, the sculpture represents the forces of gravity on the natural world and on humanity itself.
Walking Tours in Providence, Rhode Island