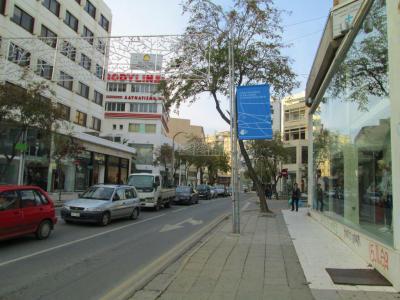 Makarios Avenue, Nicosia
Makarios Avenue is named after the President of Cyprus, Archbishop Makarios III. Previously, the street was named Pluto Street and was the primary route to Limassol. Makarios Avenue is a popular shopping street and features department stores, boutiques, restaurants, and bars.

Originally, the street was lined with residential buildings, but most of the residences have been torn down and replaced with commercial buildings. The Lyssiotis Mansion is one of the remaining original buildings. It was built in 1928 and now houses the National Bank of Greece.

Visitors will find several large department stores and arcades along Makarios Avenue. City Plaza is Nicosia's biggest department store, and Galaxias Arcade features a bustling area with restaurants, bars, a music store, and hair salons.

In 2021, Makarios Avenue was restructured to allow for better visitor movement. The street now features expanded options for pedestrians, cyclists, and public transport. In addition, city planners are planting over 300 trees and adding water fountains to improve the area's shade and keep visitors cool during the summer.
Walking Tours in Nicosia, Cyprus