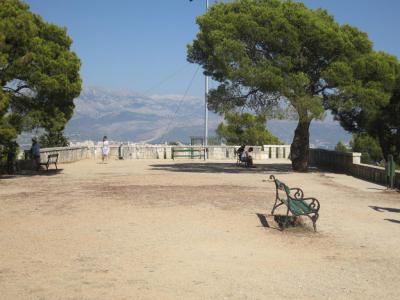 Marjan Hill Telegrin Peak, Split
One sees signs for "Marjan Hill" and a few steps later there is a totally different world. Marjan Hill Park extends out from Split on a rugged peninsula jutting into the Adriatic. The park is densely forested, mostly with pines. The forest is a sign of recovery. Over the years the hills of what is now Marjan were stripped bare.

The peninsula reforested but it was too rugged to build on except for the ancient Jewish cemetery, and many very small churches or chapels hidden under the trees or carved into the hillsides. The highest point is a hill called Telegrin. When Napoleon's armies controlled Dalmatia. There was a telegraph signal tower atop the hill.

The hill was the perfect place for a visual telegraph. The hill can be seen for miles around, especially from the sea. The telegraph is long gone but the Croatian flag remains. Napoleon didn't stay long. He was a busy man.

Marjan Hill is 178 meters (578.8 feet) high. The peak can be reached by a staircase of 314 steps. Getting around the park can involve some serious climbing, but not to worry. There are dozens of benches conveniently placed. Be sure to bring good shoes for hiking, snacks and plenty of water.
Marjan Hill Telegrin Peak on Map
Walking Tours in Split, Croatia