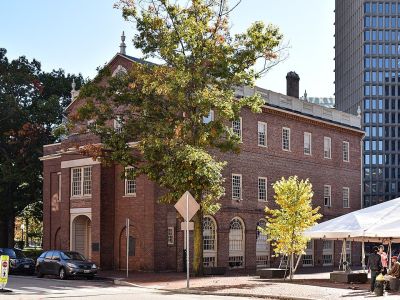 Market House, Providence
Market House is a historic house in the College Hill neighborhood. It was built in 1775 from a design by architects Joseph Brown and Stephen Hopkins. The building was used as both a market and meeting place. It was the home of the Providence City Council before City Hall was built.

The original building had only two stories. Twenty years after its completion, a third floor was added for the Masonic Lodge. The two story addition, which includes an entrance to the masonic hall, was added in 1833 by architect James C. Bucklin. The clock on its west side was added during the 20th century.

The building was used for a number of purposes over the years. It served as a barracks for French soldiers during the American Revolution. It was home to the Chamber of Commerce, several manufacturing companies and the Rhode Island Electric Light Company.

In 1948, the building was given to the Rhode Island School of Design. It was remodeled to have classrooms and studios on the inside, but the deed stated that the exterior of the building must remain true to its original design. It was added to the National Register of Historic Places in 1972.
Walking Tours in Providence, Rhode Island