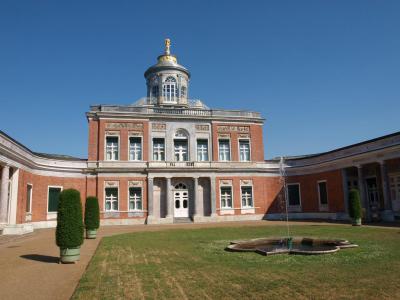 Marmorpalais (Marble Palace), Potsdam
The Marmorpalais, known in English as the Marble Palace, was a royal residence built on the shore of Lake Heiliger in the New Garden. The Marble Palace was commissioned by King Friedrich Wilhelm II for use as a summer home by the Hohenzollern family. It was designed in the Neoclassical architectural style by Carl von Gontard and Carl Gotthard Langhans. Construction of the Marble Palace was completed in 1791.

The palace was originally a square, two-story building with a round pavilion on the roof. A stairway and gallery was also constructed on the roof to lead to the belvedere. A large terrace on the lake side had a stairway that led to the water where boat moorings were easily reached. The lake shore was also home to the palace kitchen, which was designed to resemble a romantic, classical temple ruin.

The Marble Palace was expanded with two side wings in 1797. These wings were designed by Michael Philipp Boumann using marble from the colonnades of Park Sanssouci.

The palace was significantly damaged during World War II. It was no longer used as a palace at that point and continued to fall into ruin. A restoration project began in 1988. It was not completed until 2009. The Marble Palace was named a UNESCO World Heritage Site in 1990.

The Marble Palace is only open on Saturdays and Sundays from November through April. During the summer season, the palace is open from Tuesday through Sunday from 10 AM to 5:30 PM. Visitors can explore on their own or wait for guided tours that take place every 30 minutes.
Marmorpalais (Marble Palace) on Map
Walking Tours in Potsdam, Germany