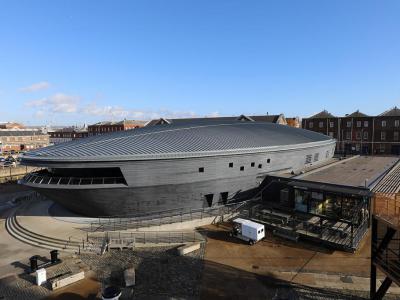 Mary Rose Museum, Portsmouth
(must see)
While King Henry VIII was watching from the ramparts of Southsea Castle during the Battle of the Solent in 1545, his favorite warship, the Mary Rose, sank. The French were attempting to invade. Their galleys had run circles around the becalmed British warships. On the afternoon of July 19th, 1545, the wind picked up, and Mary Rose attacked.

She was the first ship to use gun ports on her sides. She salvoed once and heeled over to present her other side to the enemy. The gun ports on her lower lee side were not closed. Water poured in. In a few minutes, she sank. The French withdrew, but the Mary Rose was done after 34 years of service. After 437 years, Mary Rose rose again.

The raising of the Mary Rose was the work of the Mary Rose Trust Company. It was one of the most complex marine salvages in history. The surviving section of the ship was recovered along with thousands of Tudor-era artifacts such as weapons, sailing gear, stores, and personal items of the crew. The Mary Rose Museum became her new home.

In July 1981, it was proposed to place the salvaged ship next to the flagship of Horatio Nelson, HMS Victory. The Maritime Preservation Society asked to house the wreck in Southsea Castle. In the 1980s, the ship was maintained in a covered dry dock and treated with polyethylene glycol to assist drying.

The Mary Rose Museum was designed by architectural companies Wilkinson Eyre and Perkins & Will. The museum was built over the wreck in the dry dock. In 2016 the ship was dry enough to be seen without a protective barrier. About two million people have visited the Mary Rose as of 2018. The exhibition space reunites more than 19,000 artifacts with the ship.

Visitors descend on sloping walkways from the main deck to the decks below. The exhibition closure part comes with an ascent in a glass elevator to a view from aloft of the entire ship.
Walking Tours in Portsmouth, England