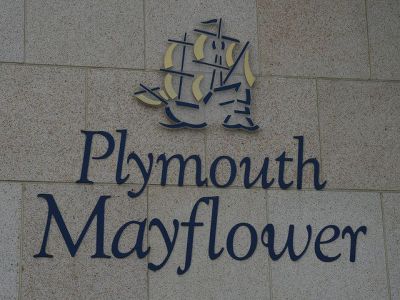 Mayflower Museum, Plymouth
The Mayflower Museum is located at 3-5 the Barbican in Plymouth. It sits above the Tourist Information Centre. It is open from 9 am to 5 pm, Mondays through Saturdays, and 10 am to 4 pm on Sundays. The Museum has reopened after an extensive remaking of its exhibits and displays. The Box is a new multi-million-pound cultural and heritage attraction.

Exhibitions on three floors examine the Mayflower company of explorers and Pilgrims and their contacts with the indigenous people of the Wampanoag Nation. There is an introduction to native history and culture alongside English voyages to America.

The exhibits, including animations and photography, were developed by the New England Historic Genealogical Society of Boston and SmokeSygnals, the Wampanoag cultural society. There are cartoons, sound effects, and hands-on displays. There is also a three-foot high 1:11-inch scale model of the ship Mayflower.

A new children's trail helps young visitors to learn about Wampanoag life, art, and the impact of the Mayflower and its passengers.
Walking Tours in Plymouth, England