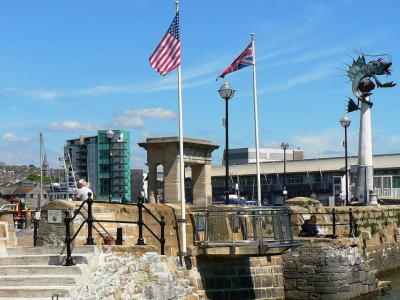 Mayflower Steps, Plymouth
On 22 July 1620, the ship Speedwell set sail from Holland, bound for Southampton, England. Speedwell had to join up with the ship Mayflower. The two ships would then sail together for North America. Due to bad weather in the English Channel, Speedwell was anchored in Plymouth, seeking shelter and essential repairs. The Gin Distillery and the Island House had accommodated the passengers before sailing for one or more nights.

Speedwell was declared unfit. Some of the passengers were to go on the Mayflower. On a morning in early September 1620, the Puritan and Separatist passengers walked down to the quayside steps and boarded the Mayflower, commanded by Christopher Jones. The wind was good, and they set out to meet their destiny.

The Mayflower Steps are located on the West Pier in the Barbican section of Plymouth. The actual site of departure is the best estimate, based upon where the Victorian public house, Admiral MacBride, stands today. These days, boat trips leave the steps for tours up Plymouth Sound and the River Tamar "Dockyard and Warships."

The departure site is marked by a portico of Doric columns made from Portland stone. The memorial, built in 1934, sits on a small pier from the 19th century. A railed platform over the water is holding a bronze memorial plaque.
Walking Tours in Plymouth, England