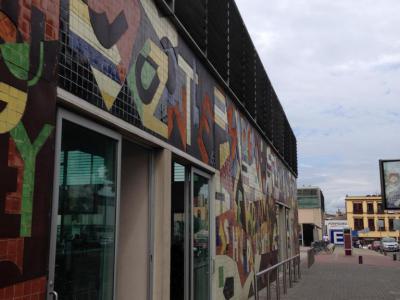 Mercado de Sabores Poblanos (Market of Poblano Flavors), Puebla
The Market of Poblano Flavors (Mercado de Sabores Pablons) is a market that promotes and sells cuisine from the Puebla region. It was opened in 2011 by the mayor of Puebla Blanca Alcala.

The market offers more than 130 spaces that sell traditional Poblano foods and sweets. Fourteen franchisees sell foods such as quesadillas, tamales, and carnitas.

The Market of Poblano Flavors is popular with both tourists and locals. Prepared meals and drinks are available along with a dining area with open seating.

While food is the primary focus of the Market of Poblano Flavors, some vendors sell handcrafts and souvenirs. Visitors will also enjoy open-air art displays by artist Luz Elvira Torres and a mosaic mural by Jose Lazcarro that decorates the building.

The market is open daily from 9 AM to 7 PM.
Mercado de Sabores Poblanos (Market of Poblano Flavors) on Map
Walking Tours in Puebla, Mexico