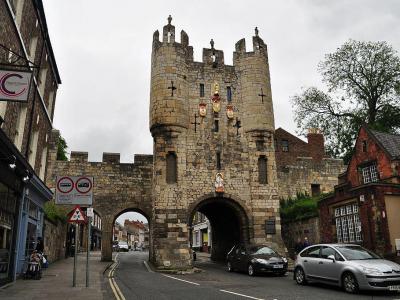 Micklegate Bar, York
Once the most important of York's medieval gateways, Micklegate Bar was the focus for grand events. The name of this four-storey gatehouse comes from the Old Norse "mykla gata", which means great street. Indeed, for many years this was a ceremonial gate and the main entrance to the city for anyone arriving from the south. At least half a dozen reigning monarchs, beginning with Richard II in 1389, have passed through Micklegate Bar, honoring a tradition of stopping here and asking the Lord Mayor's permission to enter.

The lower section of the Bar was built in the 12th century, and the top two stories were added in the 14th. The upper floors were inhabited until the 20th century. Today, the former living quarters house a museum, known as the Henry VII Experience at Micklegate Bar.

Like the other four main gates of York, Micklegate Bar originally had a barbican (outer gateway) built on the front, which became ruinous and was demolished in 1826.

For centuries the severed heads of rebels and traitors were displayed on Micklegate as a warning to dissenters. Among the unfortunate ones whose heads ended up here were Sir Henry Percy (Hotspur), 4th Earl of Northumberland in 1403, 3rd Baron Scrope of Masham in 1415, Richard Plantagenet, 3rd Duke of York (father of Edward IV and Richard III) in 1460, Edmund, Earl of Rutland (another son of Richard), Richard Neville, 5th Earl of Salisbury, and Thomas Percy, 7th Earl of Northumberland in 1572. The last of the severed heads was removed in 1754.

The most recent restoration of the Bar took place in 2017.
Walking Tours in York, England