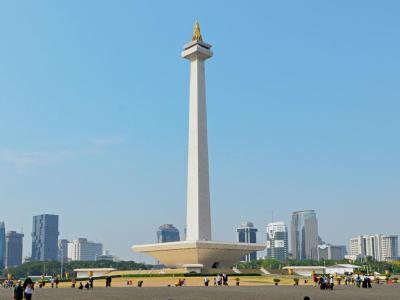 Monas (National Monument), Jakarta
(must see)
Designed by architects Frederich Silaban (the same architect who designed Istiqlal Mosque) and R.M. Soedarsono and built during the first Indonesian president, Sukarno, the Monas or National Monument is meant to commemorate the Indonesian people who fought for the national independence. The monument encapsulates Indonesian symbols such as the rice pestle (the upper part of the monument) and the mortar (the lower part of the monument), the numbers 17, 8 and 45 (August 17th, 1945 – the date when Indonesia's Independence was proclaimed) and a gold plated flame called the Independence Flame, a pledge that the country will always remain an independent territory.

The monument measures 132 meters in height and features a larger part at the bottom (interpreted as the mortar or the yoni – female reproductive organs) and a high upper part (representing the pestle or the lingga – the phallus). In traditional beliefs, the monument is also a sign of people's fertility and its power of surviving throughout the time.

The lower part hosts a History Museum where tourists can admire sequences of Indonesia's history, starting with prehistory and ending with the declaration of Independence; there is also an Independence Hall where a copy of the Proclamation of Indonesia's Independence is displayed.

The top part offers tourists a panoramic view over Jakarta. In sunny days, the ocean and Salak Mountain can be admired from the Observation Platform located on top of the monument, near the gold plated flame.
Monas (National Monument) on Map
Walking Tours in Jakarta, Indonesia
Useful Travel Guides for Planning Your Trip
--- Indonesian Sweets and Pastries
Spread across an archipelago of islands accommodating hundreds of ethnicities speaking many different languages, Indonesia is a cluster of just as many culinary traditions. And just as any other Asian culinary, Indonesian cuisine can't be imagined without a dollop of sweetness. Some of the... Jakarta Shopping Guide: Top 11 Indonesian Products
The world's largest Muslim-populated country, Indonesia is also a mecca for tourists, drawing millions each year to her thousands of volcanic islands scattered between the Pacific and Indian oceans. The country's ethnic diversity has given rise to the lavish and colorful arts and...