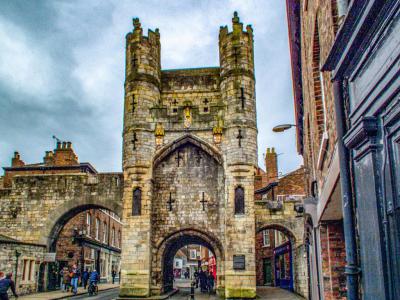 Monk Bar, York
A bar is a gate in the medieval England - the word "bar" has its origin in barries. Monk Bar is ranked as the tallest and most elaborate of York's surviving medieval city gates. It was constructed in the early 14th century as a self-contained fortress, with each floor capable of being separately defended.

On the front of the bar is an arch supporting a gallery, including "murder-holes" through which missiles and boiling water could be rained down upon attackers. Later, it was used to jail unruly Catholics, and you can experience what it was like for being a "bad Catholic" by squeezing yourself into the cramped Little-Ease Prison tucked away in one of the towers.

Today, Monk Bar houses a fascinating museum dedicated to Richard III and has the only working portcullis in York, complete with spiked railings. Between Monk Bar and Bootham Bar is one of the nicest sections of York City Wall.
Walking Tours in York, England