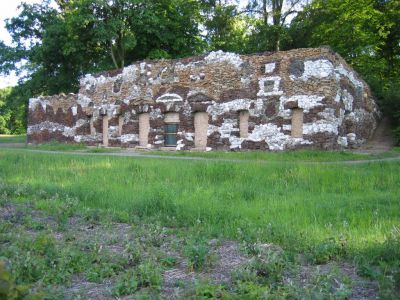 Muschelgrotte (Shell Grotto), Potsdam
The Muschelgrotte, known as the Shell Grotto in English, is a grotto located in the New Garden. It was commissioned by Friedrich Wilhelm II and built by Friedrich Ludwig Carl Kruger in 1794. It was modeled after the grotto in the palace gardens of Oranienburg.

Kruger designed the grotto to appear as though it was naturally occurring rather than manmade. To achieve this, the building was covered with bog iron stone, calcareous tuff, gypsum stone and slag from the surrounding region. The interior of the grotto was covered in glasses of various colors, shells and snails. The open, domed ceiling was designed by artist Bartolomeo Verona with birds and reeds flocked around the edges.

The purpose of the Muschelgrotte was for tea parties and dining. However, it was rarely used and fell into complete disrepair by the mid-20th century. Today, visitors can explore the Muschelgrotte where they will see the beauty behind the ruins of this structure.
Muschelgrotte (Shell Grotto) on Map
Walking Tours in Potsdam, Germany