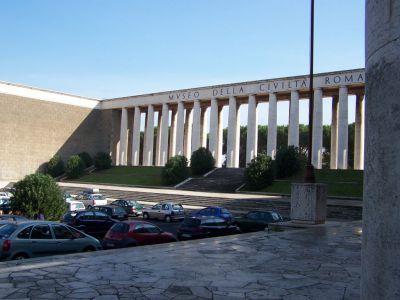 Museo della Civilta Romana (Museum of the Roman Civilization), Rome
The EUR district in Rome is a culturally rich area, home to several museums. Among them, the Museum of Roman Civilization is dedicated to Ancient Rome, spanning from the city's foundation to the 4th century. The space is divided into three sections, each filled with fascinating cultural artifacts and intricate models.

The Historical Section offers a journey through Roman legends, delving into the origins of the ancient city. Visitors can explore items from primitive culture, learn about the conquest of the Mediterranean region, and trace the expansion of the Roman Empire. Engaging insights are provided about the renowned Roman Legions, the emperors, and the arrival of Christianity, which marked the beginning of Rome's association with the Catholic faith.

The Thematic Section focuses on the daily life of early Romans, exploring aspects such as agriculture, literature, medicine, music, and schools. Notably, a remarkable series of plaster casts depicting the frieze in bas-relief from the Trajan Column can be found at eye-level for easy viewing.

The highlight of the museum lies in its third section. Here, visitors will encounter an astonishing plaster model of 4th century Rome. This meticulously crafted scale model boasts incredible detail and was the labor of love of its creator, Italo Gismondi, who dedicated over 35 years to its completion.

Editor's note: The museum is temporarily closed in order to carry out necessary renovation works.
Museo della Civilta Romana (Museum of the Roman Civilization) on Map
Walking Tours in Rome, Italy
Useful Travel Guides for Planning Your Trip
---