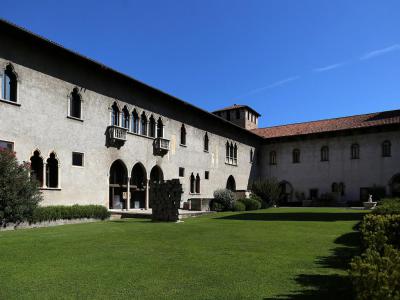 Museo di Castelvecchio (Old Castle Museum), Verona
(must see)
The Old Castle Museum is a museum located in the eponymous medieval castle. The castle was built between 1354 and 1356 to protect the family of Lord of Verona from enemies and to give them ample time to escape. The palace was used to house military weapons and munitions in the 1400s and eventually became the seat of the Venetian military academy in the 1700s. In 1925, it was made a museum.

The exhibition hall collection contains Veronese sculptures, jewelry, epigraphs, frescoes, paintings, weapons, ceramics, and bells, from the 12th to 18th centuries. The most notable works are the Sepulcher of the Saints Sergius and Bacchus, the Crucifix, Saint Cecilia and Catherina, Madonna of the Quail, and the Holy Family. Stefano da Verona, Carlo Crivelli, Giovanni Bellinis, Liberale da Verona, and Girolamo da Libri are just a few of the artists whose works fill the rooms of the museum.

The building experienced multiple renovations over a period of 700 years. Between 1959 and 1973, architect Carlo Scarpa restored the building to its original look.

The museum is a delightful to stroll around as the galleries wind their way in and out of some charming and dramatic floors and courtyards. The artifacts are nicely spaced on each floor so you don't see them as a jumble of confusing items. You can even walk on the battlements that give you a great view of the bridge and river.

Tip:
If you are keen to learn about the art inside, then it's worth paying for the audio guide.
Museo di Castelvecchio (Old Castle Museum) on Map
Walking Tours in Verona, Italy