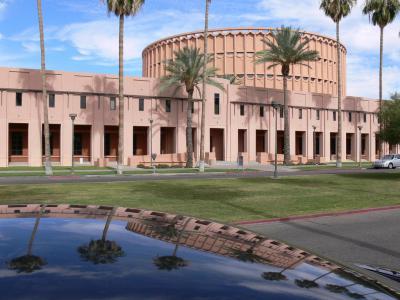 Music Building, Phoenix
The Music Building at Arizona State University hosts the Arizona School of Music. This building, of 1970 construction, has eight levels and features a design described as being similar to a birthday cake. The Music Building is next to the Grammage Auditorium and was designed by Frank Lloyd Wright's son-in-law, Wesley Peters.

One of the highlights of this building is a Fritts organ, with 1,800 hand-carved pipes. The Evelyn Smith Music Theater is in this building, as well as the Music Research Facility. There are also practice and recital rooms available for student use.

Another key highlight of this building is the Rafael Mendez Library, highlighting this composer, performer, and teacher. Photos and album covers, along with concert programs, provide a look into Mendez's life as a performer. Additional items that make up the collections include correspondence, news clippings, and the original manuscripts from Mendez's compositions.
Walking Tours in Phoenix, Arizona